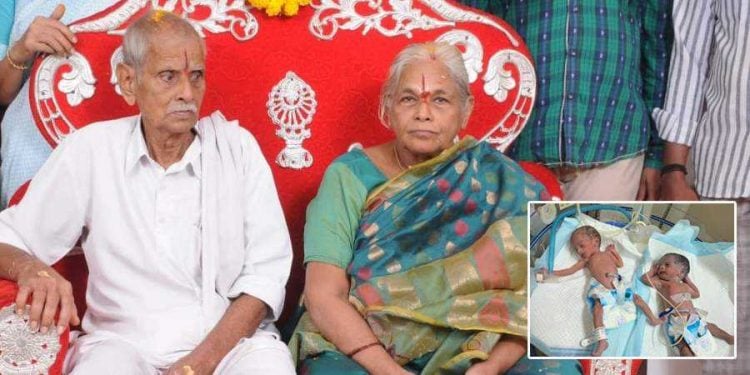 They say that if you plan on having kids, you should do it before you turn 40 because it is not ideal for a woman to give birth beyond that age threshold due to increased risk of miscarriage.
However, this 74-year-old Indian woman proved that she can still carry not one but two babies in her womb, survive labor and break a world record in the process.
Anthar Pradesh state resident Mangayamma recently became the oldest woman to ever give birth, delivering a set of twin girls following an in-vitro fertilization (IVF) procedure. Mangayamma has been married to her husband Yaramati Sitarama Rajarao, 80, who is a farmer at a village called Nelaparthipudi for 54 years (since 1962), but over the course of their marriage, they have never conceived a child until very recently.
The couple also tried consulting with numerous doctors to make sure if they are indeed incapable of bearing a child, or if there is still hope for them to have one, but only to hear the unfortunate news in the end.
Because of this, many people judged the couple, especially Mangayamma, believing that she is cursed. Despite this, the couple remained strong and hopeful that one day, they will have a child.
So 25 years after reaching menopause, the couple tried to undergo IVF procedure after hearing about a 55-year-old neighbor of theirs becoming pregnant after she underwent IVF last year. Mangayamma traveled all the way to Guntur at the Ahalya Nursing Home to undergo such a procedure.
Even doctors at the institution were surprised by Mangayamma's visit as it is an extremely rare case of an old woman around her age to undergo IVF. As it turns out, Mangayamma is healthy enough at the time to undergo such a procedure as it was found that she was not suffering from diabetes or hypertension, so the doctors went with Mangayamma's request.
"I am very happy. God has answered our prayers," Mangayamma said. "We are the happiest couple on earth today. We have our own children."
"It's due to the grace of God and doctors that I have now become a proud father of two baby girls," Rajarao added. "I am very happy. After 54 years, God has answered our prayers."
Before Mangayamma, the record of the oldest woman to give birth was held by Daljinder Kaur who was 70 at the time she delivered a baby boy. Just like Mangayamma, Kaur also underwent IVF to successfully bear a child.